All professionals at Conroe Family Dentistry maintain the highest levels of accreditation and pursue ongoing education to stay abreast of the latest trends in the medical field. Read on to learn more about our staff's experience and training.
Our Doctors
Logan D. Wood, DDS
Dentist in Conroe, TX
Conroe Family Dentistry

Logan D. Wood, DDS grew up in northern Utah where he graduated from Utah State University with a Bachelor Degree in Biology. After which, he went to Richmond, Virginia and received his Doctorate of Dental Surgery from Virginia Commonwealth University. After dental school, Dr. Wood moved to Texas...a place he now calls home. Dr. Wood is one of the top dentists in Conroe and loves helping patients everyday with all their dental care needs ranging from Cosmetics, Oral Surgery, Sedation, to simple fillings. He is extremely patient and caring and has a full understanding of the many worries some patients have when going to the dentist. He strives to make every patient have a pleasant and enjoyable experience. Dr. Wood uses the golden rule every day, treating his patients as he would want to be treated. When Dr. Wood is not working he is focused on his beautiful wife, Traci, and two children, Sydney and Kelan as well as being involved in his church, sports, helping around the house, and vacationing as a family.
Radley B. Robins, DDS
Dentist in Conroe, TX
Conroe Family Dentistry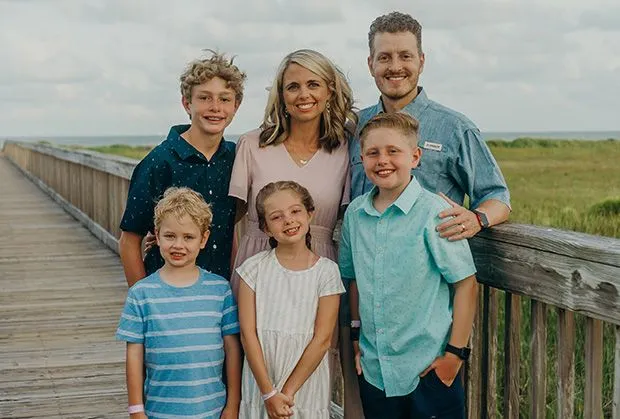 Originally from Utah, Dr. Robins graduated from Brigham Young University with a Bachelors of Science degree in Neuroscience and minor in Business Management. He then attended the University of the Pacific Arthur A. Dugoni School of Dentistry in San Francisco, California. Following graduation Dr. Robins commissioned into active duty in the United States Air Force where he served as a general dental officer for four years. As part of his time in the Air Force Dr. Robins attended an Advanced Education in General Dentistry residency at Keesler AFB in Mississippi where he expanded his knowledge and skills in endodontics, oral surgery, IV sedation and pain/anxiety control, orthodontics, periodontics, and prosthodontics.
Dr. Robins is passionate about incorporating the latest dental technology to provide high quality, comfortable care to his patients.
When not taking care of his patients, Dr. Robins enjoys spending time with his wife and their four children.
Emily Graham, DDS
Dentist in Conroe, TX
Conroe Family Dentistry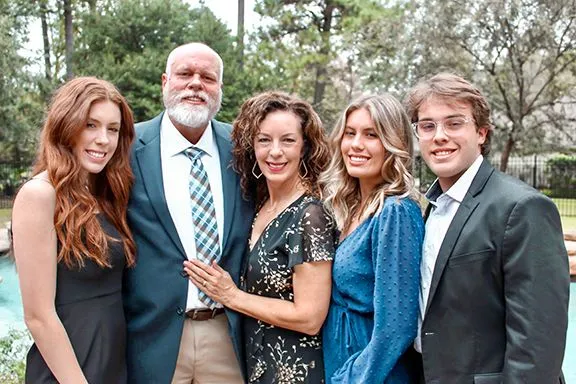 Dr Emily Graham, a general dentist, is a native Houstonian. She attended Lutheran schools throughout the Houston area and graduated from Austin College. After graduating from University of Texas Dental Branch in Houston, she began her dental practice in Spring, TX where she served the community for over 25 years. "Unto the Lord Day" was an annual event hosted by Dr. Graham to provide complimentary dentistry to patients city wide. Currently, Dr. Graham is working with colleagues in the area by providing dentistry to patients of all ages. She has been married 27 years and has three children, two of which attend TX A&M in College Station and her son is finishing his high years.
---
Traci, Office Manager
Traci has been working at Conroe Family Dentistry for the past 8 years and has loved having the opportunity to get to know the staff (which she likes to refer to as her Dental Family) as well as the patients (all of which amazingly bring life and happiness to the office). Each day at the office brings on a new adventure and Traci enjoys constantly learning new things, adapting to changes, and building relationships. Traci graduated from Utah State University with a Bachelors in Science Degree in Social Work and still gets to use this skill at the Dental office. Traci is happily married and has two beautiful children as well as a dog named Oreo. Traci enjoys doing projects of all kinds (crafty, building, decorating), cooking (and the eating part), taking adventures as a family (day ones or extended vacations), and enjoys being a participating member of her church. Traci hopes to continue to help at the Dental office by making the dental experience good for each patient from their first phone call to any visit they have within the office.
Janet, Front Office
Janet loves to get to know our patients and make them feel at ease. As the Scheduling/New Patient Coordinator, she has been in the dental field since 2011 and brings years of Customer Service experience to our office. Janet has a Degree in Interior Design and enjoys decorating the home she shares with her husband Dean and their 2 dogs and several cats. When she isn't working, her favorite activities include: running, yoga, Pinterest, and hanging out with family (especially her 3 grandchildren...Landon, Morgan, and Logan).
Nichole, Front Office
Nichole is originally from Wisconsin, but has been living in Texas since 2012. Nichole has been in the dental field for 8 years and assisted for 4 of them, before transitioning to the front office. Nichole enjoys spending time with her daughter, being outside, listening to live music, and travelling back home to visit family.
Connie, Front Office
Connie has been in the Dental field since 1983 and has enjoyed a career caring for and educating patients about dentistry. She always tries to make a patients visit as pleasant and easy as it can be. She has been married to her husband Mike for over 35 years and has a wonderful daughter. She loves to travel, read, shop and spend time with family and friends.
Gena, Dental Assistant and Front Office
Gena has been educating and caring for Dental patients for many years. She has been sharing her gift at this location for over 8 years. She has many interests including: decorating homes on a budget for her friends, recycling and repurposing old items to give them new life, and designing and planting gardens. Gena has 2 grown daughters, 2 son-in-laws, and 6 grandchildren. She's a foster mother to 4 Chihuahuas. Her immediate and extended family are her joy.
Michele, Dental Assistant
Michele is a second generation dental assistant who has been in the dental field for 21 years. She enjoys the one on one time with her patients along with the excitement the job brings. Michele is a married, mother of one daughter. Michele is a bit of an adrenaline junky, she loves to drive or ride anything fast.
Carmen, Dental Assistant
Carmen has been working in the dental field since 2016. Carmen loves spending time with her family and in her free time she enjoys going to concerts, traveling, and taking on home improvement projects. her favorite thing about working in dentistry is the instant gratification that she gets to experience with every patient. Carmen is proud to be a member of Conroe Family Dentistry and loves to see her patients healthy smiles.
Brittany, Dental Assistant
Brittany has been in the dental field since 2013. Brittany enjoys working with patients and expanding her dental knowledge by learning in the office as well as at Continuing Education Courses. Brittany enjoys spending time with her family (especially her 3 kids) as well as going to church. Brittany enjoys cooking and shopping in her free time.
Kelly, Dental Assistant
Kelly lives in Huntsville and has been a Dental Assistant for over 25 years. She loves the interaction with her patients and spreading positivity. She is a recent Cancer survivor and believes you've gotta "enjoy the little things in life" and "don't sweat the small stuff." With that being said, she is a mom to two grown children, Cheyenne and Chandler...and a grand dog Leroy Brown. In her spare time she enjoys being a part of the Walker County Fair Association, everything to do wit fashion and watching college football with family and friends.
Jessy, Dental Assistant
Jessy was born and raised in Conroe, Texas and is grateful for the opportunity to work in her hometown. She has been in the dental field for over 10 years and loves to help patients achieve their goals towards having the smile they desire. In her spare time she enjoys shopping, hunting, fishing and living life outdoors.
April, Registered Dental Hygienist
April resides in Spring, Texas where she was born and raised. She graduated from Lone Star College Kingwood in 2012 where she earned an Associates of Applied Science degree in Dental Hygiene. She is a member of the American Dental Hygiene Association and keeps her education current through various continuing courses. As one of our hygienists, she provides a comfortable atmosphere and enjoys educating all of her patients on good oral hygiene. April and her husband Chris, a local firefighter, were married in 2012 and have twin girls, Kamryn and Kinsley born in August 2015. During her time away from work she enjoys cooking, shopping and spending time with family and friends.
Audrey, Registered Dental Hygienist
Audrey is passionate about helping people in the dental field. She graduated in 2006 with a Bachelor of Dental Hygiene from the University of Texas Dental Branch of Houston. Spending time with her husband Jimmy and their three children and traveling are among her favorite things to do in her time off. She is also very passionate about baking and has become a great self-taught cake decorator. Having lived in various places in the country and world, she is a well rounded team member.
"I am thrilled to be a part of this team, and have enjoyed working alongside the best!"
Jessica, Registered Dental Hygienist
Jessica loves to connect, interact, and laugh with everyone around her. She has been in the dental field for over 10 years and has been practicing Dental Hygiene since 2014. After graduating from Blinn Community College in 2011 she then completed her Dental Hygiene degree at Pima Medical Institute in 2014. Since then she has found her home in the Conroe/Montgomery area and is so proud to be a part of our team! She had her first baby girl, Aubrie, in 2021 and is absolutely loving being a mom! Jessica enjoys spending her free time with family & friends including her dog, Rosco. She is passionate about life and strives to connect with & provide the best quality of care for her patients.
Taylor, Registered Dental Hygienist
Taylor has been in the dental field since 2017 and believes in providing the gold standard of care to every one of her patients. Taylor graduated from Lone Star College Kingwood where she earned her AAS degree in Dental Hygiene. She loves interacting with patients and giving them all the tools they need to achieve a happy and healthy smile! In her spare time she enjoys an active lifestyle of working out at CrossFit and playing recreational volleyball. Most of all, Taylor values spending quality time with her family and friends!
Tasha, Registered Dental Hygienist
Tasha graduated in 2003 from U.T. health Science Center in San Antonio with a Bachelor of Science degree in Dental Hygiene. She enjoys getting to know patients and building long-term relationships while taking care of their oral health. Tasha believes that improving oral health leads to better overall health and is grateful to have the opportunity to help patients achieve that. In her spare time, she enjoys spending time with her family, reading, gardening, and chasing her four children around.