Posts for tag: sedation dentistry
By Conroe Family Dentistry
April 29, 2021
It's common for people to fear going to the dentist, even when there's nothing to be worried about. If you avoid going to the dentist because of dental anxiety, sedation dentistry may be the option for you. Dr. Logan Wood and Dr. Radley Robins at Conroe Family Dentistry in Conroe, TX, offer sedation dentistry to ease all of your dental anxiety and get you feeling more confident about going to the dentist again.
Sedation Dentistry
Sedation dentistry can help you by blocking your pain receptors with local anesthetics or medications that can help you relax and feel totally comfortable at the dentist. When you're afraid of going to the dentist, every sensation may feel intensified and more concerning than it actually is and sedation dentistry can help you stop stressing about the dentist. First, your dentist in Conroe, TX, will discuss your medical history and determine if you're eligible for sedation dentistry.
Some forms of sedation dentistry include:
Oral Sedation- Oral sedation is applied by mouth and can be taken through pill form. This method is usually preferred because it's easy, yet effective and doesn't require the use of needles, and begins to work in a matter of minutes.
Inhalation Conscious Sedation- This method has been used in dental offices for years and is a fairly well-known form of sedation dentistry. Nitrous oxide is a sedative that you inhale and is administered through a nasal hood, which is a cup-like device that is placed over the nose.
IV Conscious Sedation- This form of sedation has an almost immediate effect and sedation is administered through an IV in the veins.
Contact Your Dentist Today!
If your fear of the dentist is preventing you from getting the care that you need, you may want to consider learning more about sedation dentistry. Contact Dr. Logan Wood and Dr. Radley Robins at Conroe Family Dentistry in Conroe, TX, today at (936) 539-2211 to ask any questions about sedation dentistry and to schedule your appointment!
By Conroe Family Dentistry
August 08, 2018
Don't let severe anxiety stop you from visiting the dentist. Regular dental checkups are important for maintaining good oral health and identifying potential concerns before they progress and become worse. Additionally, undergoing specific dental procedures when needed, such as filling cavities, is also important. Anxiety can stop you from receiving much needed dental care, but sedation dentistry can help. At Conroe Family Dentistry, Dr. Logan Wood and Dr. Radley Robins are your dentists for sedation dentistry in Conroe, TX.
Sedation Dentistry in Conroe
Sedation dentistry is a type of dentistry that uses mild sedatives to ease anxiety in patients who are extremely nervous about undergoing dental exams or procedures. In Conroe, sedation dentistry is offered at Conroe Family Dentistry. There are several sedation methods for helping patients relax and experience less anxiety during their dental visit. The following sedation methods involve conscious sedation so patients remain awake, but relaxed, during their dental visit. Sedation methods include:
Oral Sedatives — Pills that are either swallowed or placed under the tongue where they dissolve. Examples include Versed, Valium, Vistaril, Sonata, and Ativan.
Nitrous Oxide — An inhaled sedative that alleviates anxiety. The nitrous oxide is inhaled through a mask that fits over the nose.
Intravenous Sedation — Sedatives administered directly into the bloodstream through an IV.
Sedation dentistry offers several benefits, including:
Patients remain awake and alert
Helps patients relax and eases anxiety
Patients with dental phobia can still receive regular dental care to maintain better oral health
Allows patients to tolerate longer dental procedures so dental work can be completed in a single appointment
Anxiety does not have to stop you from visiting the dentist. Sedation dentistry is an option for helping you relax during dental appointments and experience less anxiety. Even if you have a strong fear of dental visits, sedation dentistry can help. For sedation dentistry in Conroe, TX, schedule an appointment with Dr. Wood or Dr. Robins by calling Conroe Family Dentistry at (936) 539-2211.
By Conroe Family Dentistry
April 29, 2018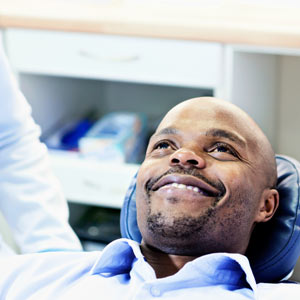 Although dental visits are routine for most people, it's a different experience for a few. About one in ten adults have high anxiety or fear of going to the dentist and may avoid it altogether—even when they have an acute situation.
If you're one of those with dental visit anxiety there's good news—we may be able to help you relax and have a more positive experience. Here are 3 things you need to know about reducing your anxiety at the dental office.
It starts with the dentist. While every patient deserves a compassionate, understanding dentist, it's especially so if you suffer from dental visit anxiety. Having someone who will listen to your concerns in a non-judgmental way is the first step toward feeling more comfortable in the dentist's chair. It also takes a sensitive practitioner to work with you on the best strategy for relaxation.
Relaxation often begins before your visit. There are various degrees of sedation (which isn't the same as anesthesia—those methods block pain) depending on your level of anxiety. If you experience mild to moderate nervousness, an oral sedative an hour or so before your appointment could take the edge off and help you relax. Oral sedatives are also mild enough for use with other forms of sedation like nitrous oxide gas, and with local anesthesia.
High anxiety may require deeper sedation. If your level of anxiety is greater, however, we may recommend IV sedation to induce a much more relaxed state. The sedation drugs are delivered directly into your blood stream through a small needle inserted into a vein. Although you're not unconscious as with general anesthesia, we can place you into a "semi-awake" state of reduced anxiety. The drugs used may also have an amnesiac effect so you won't remember details about the procedure. This can help reinforce positive feelings about your visit and help reduce future anxiety.
If you're anxious about dental visits, make an appointment with us to discuss your concerns. We're sure we can work out a strategy to reduce your anxiety so you can receive the dental care you need.
If you would like more information on sedation therapy, please contact us or schedule an appointment for a consultation. You can also learn more about this topic by reading the Dear Doctor magazine article "IV Sedation in Dentistry."