Posts for tag: cosmetic dentistry
By Conroe Family Dentistry
November 05, 2020
For a smile you'll love and others will notice, see Dr. Logan Wood and Dr. Radley Robins at Conroe Family Dentistry. In their Conroe, TX, practice these cosmetic dentists help patients improve a single dental feature or transform an entire smile for unbeatable self-confidence.
Think ahead
Consider how you want your smile to change. Then, come to our office for a consultation with Dr. Robins or Dr. Wood. Your cosmetic dentist will inspect your teeth and gums and suggest practical and aesthetic ways to enhance their appearance.
For instance, maybe too much gum tissue shows when you smile. Or, do you have dark stains from coffee and cigarettes? Do you need two crowns on those chipped front teeth, or would porcelain veneers be the better choice?
Whatever you dream, you likely can achieve it. However, good dentist and patient communication is key to a successful smile makeover, says the American Academy of Cosmetic Dentistry (AACD). After your consultation, you'll have a customized care plan.
Our featured services
Here's what available to you:
Professional teeth whitening to remove years of organic stains and brighten tooth enamel to a Hollywood shine
White fillings for a natural-looking and durable solution to dental decay
Porcelain veneers, thin laminates of high-grade ceramic bonded over chips, cracks, gaps and poor size and shape
Porcelain crowns to support and protect decayed, chipped or abscessed teeth, sparing them from further damage or even extraction
Inlays and Onlays, partial crowns which are fitted into or on top of tooth cusps on damaged chewing surfaces
Six Month Smiles, the clear, fast way to straight teeth directly in the smile zone
Composite resin bonding to repair cracks and chips and restore decay seamlessly
Cosmetic contouring, a light enamel buffing and sanding which corrects small defects such as pits, chips and craze lines
We use high-quality materials, advanced imaging and impression techniques for exceptional results.
Come in for a consultation
At Conroe Family Dentistry in Conroe, TX, we want our patients noticed for healthy, attractive smiles. To learn more about what cosmetic dentistry could do for you, phone for a consultation appointment with Dr. Wood or Dr. Robins: (936) 539-2211.
By Conroe Family Dentistry
October 29, 2019
Find out how our Conroe cosmetic dentist can enhance your smile.
Cosmetic dentistry has become a very popular way to achieve your dream smile when genetics or other problems have left you with a less-
than-perfect set of teeth. Of course, there are so many options out there these days that choosing the right one can be a bit daunting. Read on to learn about the different techniques and treatments that our Conroe, TX, cosmetic dentists, Dr. Logan Wood and Dr. Radley Robins, use to transform patients' smiles.
Teeth Shaping
Teeth shaping or contouring refers to a non-invasive technique in which our Conroe, TX, dentist will remove a bit of tooth enamel to alter the shape and size of one or more teeth. This treatment is completely painless, and it can be performed during your next dental visit in order to create immediate results. This is a great option for someone who might be dealing with an excessively sharp or pointy tooth or a tooth that stands out from the rest because it's a bit unevenly shaped.
Professional Teeth Whitening
Getting a whiter smile is one of the most popular cosmetic treatments available here at our Conroe office. In as little as one hour, our dental team can remove those yellow stains and brighten your smile by several shades. If you are looking for fast, dramatic results, then chairside whitening will be the best option. This bleaching system can remove stubborn external stains caused by aging, smoking, and diet.
Porcelain Veneers
Veneers can provide widespread changes and improvements to the overall shape, size, color, and even alignment of your teeth. If you are dealing with the teeth that are oddly shaped, deeply discolored, or just a bit out of alignment, then bonding these thin porcelain shells to the front of your teeth can be your way to achieve a more perfect smile.
Interested? Give Us a Call
If you are ready to design your perfect smile, call Conroe Family Dentistry in Conroe, TX, today at (936) 539-2211 to schedule a consultation with one of your cosmetic dentists.
By Conroe Family Dentistry
September 25, 2017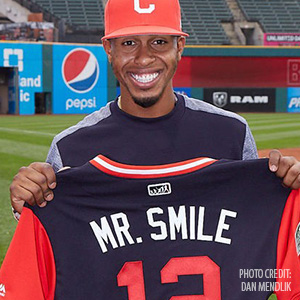 At the first-ever Players Weekend in August 2017, Major League Baseball players wore jerseys with their nicknames on the back. One player — Cleveland Indians shortstop, Francisco Lindor — picked the perfect moniker to express his cheerful, fun-loving nature: "Mr. Smile." And Lindor gave fans plenty to smile about when he belted a 2-run homer into the stands while wearing his new jersey!
Lindor has explained that he believes smiling is an important part of connecting with fans and teammates alike: "I've never been a fan of the guy that makes a great play and then acts like he's done it 10,000 times — smile, man! We've got to enjoy the game."
We think Lindor is right: Smiling is a great way to generate good will. And it feels great too… as long as you have a smile that's healthy, and that looks as good as you want it to. But what if you don't? Here are some things we can do at the dental office to help you enjoy smiling again:
Routine Professional Cleanings & Exams. This is a great place to start on the road toward a healthy, beautiful smile. Even if you are conscientious about brushing and flossing at home, you won't be able to remove all of the disease-causing dental plaque that can hide beneath the gum line, especially if it has hardened into tartar, but we can do it easily in the office. Then, after a thorough dental exam, we can identify any problems that may be affecting your ability to smile freely, such as tooth decay, gum disease, or cosmetic dental issues.
Cosmetic Dental Treatments. If your oral health is good but your smile is not as bright as you'd like it to be, we can discuss a number of cosmetic dental treatments that can help. These range from conservative procedures such as professional teeth whitening and bonding to more dramatic procedures like porcelain veneers or crowns.
Tooth Replacement. Many people hide their smiles because they are embarrassed by a gap from a missing tooth. That's a shame, because there are several excellent tooth-replacement options in a variety of price ranges. These include partial and full dentures, bridgework, and dental implants. So don't let a missing tooth stop you from being Mr. (or Ms.) Smile!
If you'd like more information about oral health or cosmetic dentistry, please contact us or schedule an appointment for a consultation. You can also learn more by reading the Dear Doctor magazine articles "Beautiful Smiles by Design" and "The Impact of a Smile Makeover."